Inevitably drawn towards each other by the harmony of their instruments, the two musicians instantly connected in 2016. The unique combination of clarinet and accordion enables the musicians Paula Breland (clarinet) and Anna-Katharina Schau (accordion) to offer a colorful palette of sounds with soloists precision and chamber music fusion.
The wide range of their repertoire includes music from the Renaissance as well as contemporary compositions and world premieres, written exclusively for the Duo Amabile.

Founded at the Hochschule für Musik, Theater und Medien Hannover, the ensemble initially won a scholarship from Yehudi Menuhin - Live Music now Hannover e.V. and shortly afterwards a scholarship from the Hanover region. The duo was included in the concert funding of German Music Competition in 2021 and is currently touring at renowned festivals in Germany such as Altenberger Kultursommer. Paula Breland and Anna-Katharina Schau received with their Trio Klangspektrum (together with cellist Jennifer Aßmus) as an ensemble for contemporary music the prize of the German Music Competition as well as several special awards.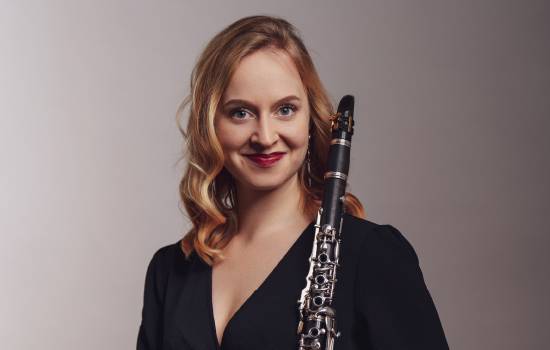 Paula Breland
CLARINET
Born in 1997, Paula Breland received her first clarinet lessons at the age of 15 from Eddy Vergauwen. Only a year later she successfully took part in the nationwide "Jugend musiziert" Music Competition and became a member of the North Rhine-Westphalia State Youth Orchestra. She completed her studies with Johannes Peitz and Ulf-Guido Schäfer at the Hannover University of Music, Drama and Media with distinction. She is currently studying in Lübeck with the renowned clarinetist Jens Thoben. A native of the Rhineland, she won a scholarship in 2016 from the Hannover Region and shortly afterwards received a scholarship holder of the Yehudi Menuhin Live Music Now Foundation Hannover. In 2020 she was awarded the Hannover Student Union Prize. In addition to her focus on chamber music, she has played the clarinet in various orchestras such as the ensemble rauschkulisse, the Neue Philharmonie Hamburg and the Deutsche Kammerphilharmonie Bremen.
Anna-Katharina Schau
ACCORDION
Born in 1995, Anna-Katharina Schau began playing the accordion at the age of six after having discovered the instrument during her early musical education. Her interest in contemporary music and new playing techniques led her to the Hannover University of Music, Drama and Media, where she successfully earned a Master of Music degree in 2022. Important teachers in her musical development include Goran Stevanović, Matti Rantanen, Claudia Buder and Veli Kujala. In addition to her winning the German Music Competition 2021, she was lately awarded First Place at the Akkordeon-Musik-Preis Competition in 2021. She received grants from the Hannover Region, the sponsors group of the Hannover University of Music, Theater and Media, the Yehudi Menuhin Live Music Now Foundation Hannover and Hamburg as well as the Ernst von Siemens Music Foundation.